David M.R.D. Spencer
Jump to navigation
Jump to search
"It's a great day to be alive!".- David M.R.D. Spencer
---
David M.R.D. Spencer
RELATED TOPICS
SERMONS, ESSAYS AND OPINIONS

Bulleted list to specific personal opinion articles written by this media worker

CONTENTS
David M.R.D. Spencer is a Canadian Christian who was involved in the encouragement and promotion of acting, dance, film, music, new media, news, publishing, radio, television, theatre, visual arts and writing ministries in Canada.
David M.R.D. Spencer was the founder and Project Leader for ChristianMedia.ca. He ran the project from November 10, 2000 to December 20, 2008. [1]
David helped form a community group and network that established a low power FM radio community station in Erin, Ontario, Canada. He designed the first Joomla! version of the radio station's web site. He also produced over ten (10) radio documentaries of the show "Talk Back" that were aired on the radio station.
From 1988 to 1989 David was the executive producer of Generation XC a youth focused television show written, performed and produced by teens from ages 14 to 21. Generation XC aired on Rogers Community Television Cable 10 in Brampton, Ontario.
David made a presentation to Canada's CRTC in January 1982 requesting that more Canadian written and performed gospel and contemporary Christian music be aired on Canadian secular radio stations. To further this vision, he ran the Christian Music Association and the Christian Musicians Association from 1982 to 1986.
David M.R.D. Spencer's Service to Media Workers
David M.R.D. Spencer's media ministry projects included community building, networking and web site development to connect Christian Media workers in Canada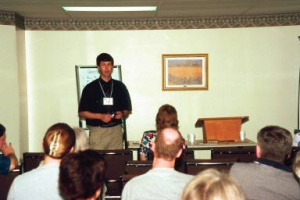 David M.R.D. Spencer presenting a workshop at the God Uses Ink Conference in Guelph, Ontario 2001.
David M.R.D. Spencer's Christian Testimony
I was taught by my parents that God loved me ("Jesus Loves me this I know for the Bible tells me so..."), that I should thank Him at meal time by saying grace and that He created the earth and all creatures. I was drawn to Jesus Christ through a church in Brampton, Ontario, Canada that spent time and money reaching out to youth. This body of Christian believers showed enough faith to invite me as a 15 year old to play electronic keyboard organ at an evening youth service. I connected with some youth, was invited to youth group and attended a number of youth retreats in central northern Ontario. I chose to become a Christian, accept Jesus Christ as my Lord, Saviour and best friend when I as 17 years old. Since then, my life has been full of clear direction, hope, purpose and full of a peace that passes understanding.
Contact David M.R.D. Spencer
David M.R.D. Spencer can be contacted here.
Quotes
Significant quotations made by this Media Worker from Canada.
References
Links
ChristianRadioCanada News is a forum for announcing developments in Canadian Christian radio. Through this free e-newsletter, our members share resources for radio station managers, program directors (PD), music directors (MD), promoters and announce future gatherings and telephone conference phone calls of Canadian Christian radio staff, personnel, volunteers and supporters. Subscribers to ChristianRadioCanada_News are involved in and support radio ministry in Canada. ChristianRadioCanada_News is Moderated by Beth Warden.
---
Return to Christianity -> Christian literature, art, music and media -> Media -> Media in Canada -> Media Workers in Canada

Note to users: The wiki is currently operating in safe mode. Editing is limited to users with certain privileges in order to deal with spam. You can create a new user account, and confirm your email ID in order to obtain ability to edit pages. Learn how to be an editor or sysop at WikiChristian.

Sponsors: WikiChristian is supported by W8MD's NYC weight loss, sleep and medical aesthetic centers.