Saint Paul, Minnesota
Jump to navigation
Jump to search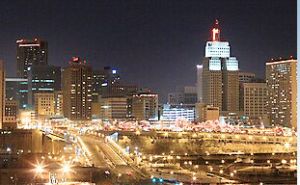 Saint Paul is the capital and second-most populous city of the U.S. state of Minnesota. The city lies mostly on the north bank of the Mississippi River, downstream of the river's confluence with the Minnesota River, and adjoins Minneapolis, the state's largest city. Known as the "Twin Cities", these two cities form the core of Minneapolis-Saint Paul, the 13th largest metropolitan area in the United States, with about 3.5 million residents. The city's population at the 2000 census was 287,151. Saint Paul serves as the county seat of Ramsey County, the smallest and most densely populated county in Minnesota.

Note to users: The wiki is currently operating in safe mode. Editing is limited to users with certain privileges in order to deal with spam. You can create a new user account, and confirm your email ID in order to obtain ability to edit pages. Learn how to be an editor or sysop at WikiChristian.

Sponsors: WikiChristian is supported by W8MD's NYC weight loss, sleep and medical aesthetic centers.